ADVICE FOR PARENTS & TEEN DRIVERS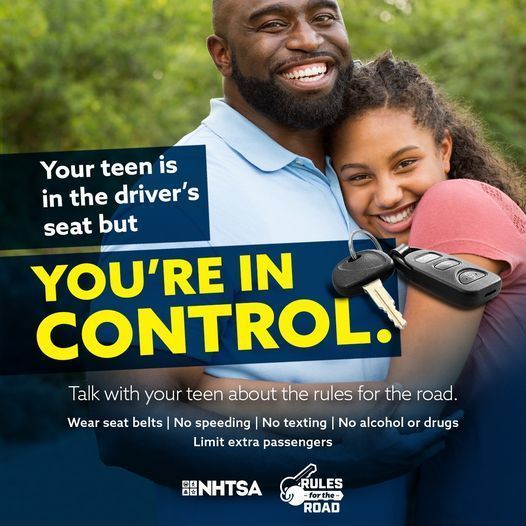 Teen Drivers - Stay Safe!

Teens are the least experienced drivers on the roadways and need to take special precautions when driving. Here are some tips to help you make smart choices and stay safe on the road!

Know your options for SAFE rides home: There's Uber and RedCap where kids can get a ride and don't have to resort to something more expensive.

Stick to the curfew: More accidents happen between 9 p.m. and 2 a.m. than during daylight hours. But remember, if you're running late it's better to drive safely than to speed to make up the minutes.

Drive hands free: You shouldn't have anything else going on. You should never have cell phones, or text or check Facebook in the car.

Especially during graduation season, remember, it can wait: Everyone is really excited and you get into the car with your friends, but you can't distract the driver with selfies and loud music. All the things you want to do, do them out of the car. Wait for your arrival at your destination.

NEVER text and drive: You're 23 times more likely to crash while texting. It takes your eyes off the road on average of five seconds at a time. It's like driving after having four beers. Your life is more important than any message.

Parents - Listen Up!

Parents or guardians are still the biggest influence on kids. Parenting a teenager is serious business with social media, music, smart phones, and peer pressure. Getting them ready for the road is a terrifying experience for parents, so we're hoping these tips will make your teen smarter and stop your hands from shaking when you're handing over the keys.

Lead by example: Set a good example. Put down your phone. Don't disregard red or yellow lights or stop signs. Control your road rage. Keep a good distance from the car in front of you and don't speed.

Set realistic boundaries: Only go a few minutes from the house to start. Don't drive on the highways at the beginning of the driving experience. Don't have friends in the car the first few months. It may help to write up a contract with your own thoughts on what they should do. Give them rewards and more responsibilities as they gain experience.

Revisit the basics of driving they learned at the beginning: Emphasize never engaging in drinking or drug use. Driving impaired is one of the leading causes of death and serious injuries in teen car crashes. If you're driving impaired, that's a distraction.

Offer to pick them up: Make sure your child knows he or she can always call you to come get them. You can pick them up blocks away to avoid embarrassment.
Five Ways To Address Texting While Driving With Your Teen
Most parents have a hard enough time connecting with their teens on a day-to-day basis. While teens desperately want to be independent, you've got to watch out for them and teen driving is an area that every parent loses sleep over. In today's world, that worry is often less about obeying traffic laws than is about texting while driving a practice that an astounding number of teens admit to.
According to a recent nationwide survey commissioned by Bridgestone Americas, Inc., 95% of teens surveyed admitted to texting while driving. The use of cell phones, whether talking or texting, contributes to 1.6 million crashes per year (according to the National Safety Council), which makes it a necessity for all parents to address smartphone use among teens who are driving.
Here are five ways to do just that:
1. Communicate. It sounds simple and perhaps a bit "touchy-feely," but teens don't often hear what you're really saying. Regardless of the up and down head shaking you might get, you're likely getting a behind the back eye-roll once the conversation is over. Open up to your teens about your concerns, their safety and the safety of others. Make sure they understand the very real consequences of texting and driving – especially if their behavior were to cause the death of another. Sometimes, it's all about perspective.
Lisa Lewis, MD recommends that parents set an example for their children.
"As you rightly point out, this is a major problem," Dr. Lewis said. "I think parents need to model no texting while driving. I often see parents driving with a cell in hand and kids in the back seat."
2. Get Tech Savvy. Although most parents can't imagine the idea of "out tech-ing" their teen, there are apps available to alert parents when their teens are texting and driving. Every app operates a bit differently, may only be available for certain types of devices and can be expensive; however, it's a viable option if you're simply at your wit's end.
3. Take The Pledge. Having teens take a pledge not to text and drive reinforces the idea that they've made a personal commitment to themselves and to others. There are numerous pledges available that parents can download, print, have their teen sign and post right where most teens are likely to be reminded of it on the refrigerator door.